biographies: our chefs
Meet the Chefs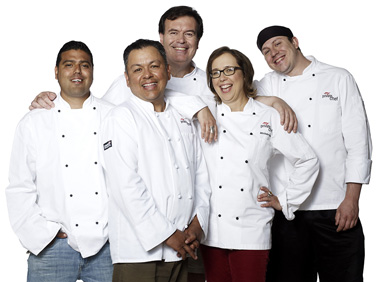 Executive Chef Christopher Tong has assembed and trained a group of professionals who understand and are committed to the special qualities that make My Private Chef one of the most popular experiences in fine dining.
Michele Mach

Chef Michele is our organic vegetarian, vegan and raw creations expert. She comes to this specialty from a solid career as a private chef that began in 1982. Michele has a certification in Raw Culinary Arts and is currently studying at The Institute for Integrative Nutrition for a certification in Holistic Health Coaching.
And, to this emphasis on nutrition, health and wellness she regularly adds: delicious!
James Woolf

Chef Jim brings more than 30 years experience as an Executive Chef, Sous Chef and Pastry Chef to the team at My Private Chef. He has served at top tier hotels and clubs in Chicago and the midwest.
Chef Jim says: "I don't know what I enjoy more: cooking or baking. My passion, however, is knowing how to cook things from scratch."
Edgar Rodriguez


Chef Edgar is an experienced professional. His outstanding career includes praise from ZAGAT and Chicago's newspapers, to his leadership at Kendall College.
Matthew Woolf

Chef Matthew has five years experience working with My Private Chef. He says: "You have to think on your feet. I'm proud of being able to solve problems quickly and efficiently. I love this business!"
Jonathan Mancilla

Chef Tong noticed Chef Jonathan's special talent when he was his student at St. Augustine's Culinary Apprenticeship Program. He is now a welcome addition to the team.